Concrete Products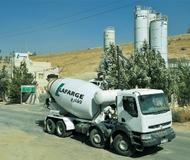 We apply LafargeHolcim quality standards in our daily production. Our wide range of products and innovative solutions qualify us to proudly contribute to the success of your construction projects in Jordan.
Lafarge Concrete Jordan offers a wide range of innovative products and solutions for all applications in both building and construction sectors.
We produce all kinds of ordinary and armed concrete with professionalism to ensure high quality and deliver integrated solutions which are ideal for all architectural areas.