Lafarge Concrete in Jordan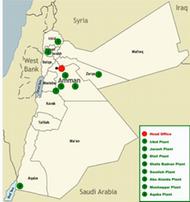 In 2008, Lafarge Group acquired 51% of four Ready Mix Concrete(RMX) companies which had been present in Jordan for 32 years. 
Since the acquisition we have:
Enforced Lafarge Group Health and Safety (H&S) standards and processes.
Upgraded and developed our network with eight plants covering the Kingdom.
Implemented the biggest Concrete Lab in Jordan: over 40 laboratories tests are used to certify the raw materials and the Concrete in its different phases.
Strengthen our quality standards. More than 32,000 cubes have been tested in 2009 and over 50,000 cubes were tested in 2010 demonstrating the outstanding quality of our products.
Equipped our plants with fully automated production lines.
Introduced Value Added Products (VAP).
We deliver the Lafarge quality standards in our daily production.
Our high quality products qualify us to proudly contribute to the success of your projects in Jordan.
Our Production

A large fleet of modern Ready Mix Concrete mixers and pumps

1,8 millions m³ is the annual production capacity of our 8 plants & 10 production lines in Jordan.

 

Over 50% of the Ready Mix Concrete (RMX) trucks are less than 3 years old. The operated pumps are from 36m to 52m and include high-rise stationary pump and placing boom.

We consistently deliver safety, quality and innovative products to our customers.

 

Lafarge produces standard Ready Mixes varying from plain concrete to reinforced concrete that cover all building requirements, in addition to the high range of our Value added Products.
Values & Priorities

At Lafarge we believe in four core values that help us to serve our customers and Stakeholders and build for a better future. 

Health & Safety
Quality & Performance
Innovation
People Development

 
More than 300 employees

306 employees are working at Lafarge Concrete Jordan and their sole aim is to serve our customers in the best possible way.

 

At Lafagre group we believe that human resources development and training are major key factors for success.