How does a family business grow into a world leader in just one century? Discover the milestones that marked Lafarge Group's expansion.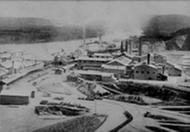 Lafarge Group began its operations in 1833 when Auguste Pavin de Lafarge set up a lime operation in France. By acquiring numerous lime and cement companies across the country, Lafarge became France's largest cement producer by the late 1930s.

The Group first expanded internationally in 1864 by supplying lime for the construction of the Suez Canal, and continued to grow its international presence throughout the early twentieth century when its operations began in North Africa, the UK, Brazil and Canada.

After the 1981 acquisition of General Portland Inc., Lafarge became one of the largest cement manufacturers in North America. The Group went on to further its global expansion in 2001 by acquiring Blue Circle Industries and other companies around the Mediterranean Basin, Eastern Europe, the Middle East and Asia. Today, Lafarge is the joint leader in the worldwide cement industry, with production facilities in 51 countries.

Lafarge's aggregates and concrete business, now operating in 29 countries, made a significant leap in 1997 with the acquisition of Redland plc, one of the principal manufacturers of aggregates and concrete worldwide at the time.

The Group first entered the market of gypsum products in 1931 and is now the world's third largest wallboard producer, with operations in 28 countries.

In February 2007, the Group sold its Roofing Division, which came on board with Redland plc.

Lafarge's History at a Glance

 1833

Beginning of operations in France.

 

1864

Lafarge delivers 110,000 tonnes of lime for the construction of the Suez Canal.

 

1931

Lafarge enters the gypsum market.

 

1956

Lafarge builds its first cement plant in Richmond, Canada.

 

1981

Acquisition of General Portland Inc.

 

1994

Lafarge enters the Chinese market through the creation of a joint venture in cement.

 

1997

Acquisition of Redland plc.

 

2001

Acquisition of Blue Circle Industries plc.

 

2007

Sale of Lafarge's Roofing Division.

 

2008

Acquisition of Orascom Cement.